JENNIFER WEINER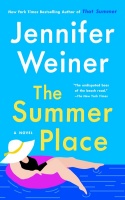 The Summer Place (2022)
When Ruby announces she is getting married on Cape Cod, Sarah is worried that her stepdaughter is too young and that her pandemic lockdown relationship with fiance Gabe hasn't had enough time to develop in the real world.
However, Sarah's mother, Ronnie, is delighted to hear that she will have the extended family back at her beloved beach house one last time, since she's decided it's finally time to sell up.
Meanwhile Sarah's husband, Eli, isn't himself at all, while her twin brother Sam is still adjusting to the loss of his partner.
Weiner returns to Cape Cod again for her latest novel, with Diana from That Summer making a brief cameo. She tells a tale of complicated family ties - although the connections were at times too coincidental. It was an engrossing and heartfelt character-driven read while flipping the pages. But on conclusion, you realise the implausibility of those coincidences weakened the storyline.

---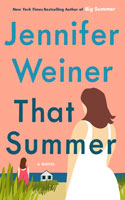 That Summer (2021)
Cookery teacher Daisy married young and her teenage daughter, Beatrice, attends the same elite boarding school that her lawyer husband Hal went to.
When Daisy – whose real name is Diana - receives emails meant for someone else, she strikes up a friendship with the other Diana, a high-powered businesswoman. The two women arrange to meet but it appears that the other Diana isn't who she says she is and their random connection was not coincidental at all.
Under the spectre of the #MeToo movement, this is a timely and thought-provoking tale that alternates between the stories of the two women as well as casts back to a Cape Cod summer when a young Diana's life irrevocably changed. It's a powerful and moving read that I would highly recommend.

---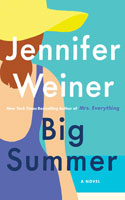 Big Summer (2020)
Plus-size influencer Daphne is contacted by her former friend Drue years after they fell out over the nasty way that Drue would treat her. Drue is getting married to a reality TV star in a big society wedding on Cape Cod and desperately needs Daphne to be a bridesmaid.
Halfway through, this absorbing story took a very different turn to what I expected so whatever you do, don't read any detailed reviews beforehand so you can avoid spoilers.
The book's strength lies in the vulnerability of its main character, who takes us back to her high school days when Cruella de Drue reigned and details how she came to terms with her body and used it to launch her business.

---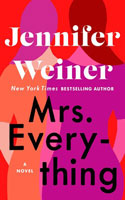 Mrs Everything (2019)
Sisters Jo and Bethie are growing up in 1950s Detroit – sporty Jo is the feisty troublemaker while pretty Bethie is the apple of her mother's eye. But when their family is rocked by tragedy, the girls' lives spin off in unexpected directions. Bethie becomes a free-spirited wild child living in a women's commune, while Jo puts aside her attraction to women to settle down and marry.
This epic story follows the sisters (inspired by their Little Women namesakes) through the decades, as America is shaken by the civil rights and women's liberation movements.
With Weiner's engaging writing style, it's easy to become immersed in the sisters' lives as they try to find their true path – their mission upset not only by the times in which they live but also by their own choices. A story to savour and not rush your way through.

---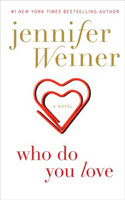 Who Do You Love (2015)
Rachel and Andy meet in hospital as eight-year-old kids - she's a regular patient with her heart defect, while he's come into the ER department alone with a broken arm. Several years later, as teenagers they are thrown into contact with one another again and the differences in their lives couldn't be more apparent.
Rachel lives a comfortable college-bound existence in Florida with her parents, while Andy and his single mum scrape by in Philadelphia. Running is his passion and his way of escaping the feeling that he never fits in because he is biracial.
I loved every second of this story. It again demonstrates what a masterful storyteller Weiner is, as we follow Rachel and Andy over three decades, seeing what brings them together and what drives them apart.

---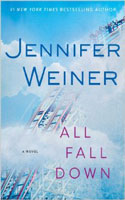 All Fall Down (2014)
To an outsider, it may appear as though Allison Weiss has it all: a beautiful house in the suburbs, a husband and daughter, and a profitable career as a blogger. But her life is far from perfect. Her marriage is crumbling, her child is particularly difficult, and her father's dementia has progressed to the point that he must be placed in a home, leaving her co-dependent mother with no one to lean on but Allison.
Unable to cope with all the demands being placed on her, Allison turns to pills to take the edge off. Surely they can't be too harmful; they are prescription pills after all. And how could that be any worse than having a glass of wine to unwind at the end of the day? But one pill quickly turns into several, and it becomes more and more difficult for Allison to hide her addiction. It is only after being confronted by her husband that she agrees to enter a rehab facility and begins to heal.
All Fall Down is at once heartbreaking and uplifting. Weiner has created a main character whose actions can be incredibly frustrating, but who nonetheless elicits sympathy from the reader. It is definitely a page-turner and Weiner fans will not be disappointed. (LB)

---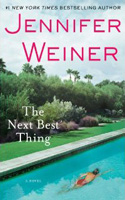 The Next Best Thing (2012)
This novel was no doubt inspired by Jennifer Weiner's involvement as executive producer and co-creator of short-lived sitcom State of Georgia. As a result the behind-the-scene details of getting a show to air are very authentic and revealing. Ruth - a character who first cropped up in a short story called Swim - has lived with her grandmother since her parents died in a car crash. The accident left her with long-lasting scars, including a disfigured face.
As a young Ruthie recovered in hospital from numerous reconstructive surgeries, she fell in love with TV shows such as The Golden Girls. Now living in LA, she is working for two producers called Dave, when her show The Next Best Thing - loosely based on herself and her grandmother - gets the green-light. But Ruth's celebrations soon turn sour as she has to follow the studio's directives regarding cast and script changes. Will the show that airs have anything in common with her original vision?
This is a very entertaining story about a girl chasing her dream and what happens when your big break may well break you. And again Weiner has created a protagonist with an intriguing bag of insecurities and strengths.

---
---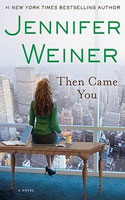 Then Came You (2011)
This story explores the theme of surrogacy and is told from the perspectives of four different women. Julia, a recent graduate of Princeton University, sells her eggs to a fertility clinic. Annie, a mother of two boys, becomes a surrogate to help out with some of the bills but it ends up causing trouble for her marriage. India and her new wealthy husband, Marcus, have been unsuccessful in conceiving a baby.
So India turns to surrogacy to help her get the baby she has always wanted and selects Annie as the woman to carry her child. Marcus' daughter Bettina is not a fan of her father's new wife and seeks to destroy the relationship. A single event brings them all together. What will happen when all the players get together for the first time?
This is another well-written, often heart-wrenching story from Jennifer Weiner, and I found myself turning the pages quickly to find out what would happen next. (JG)

---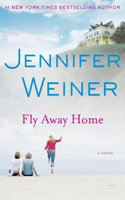 Fly Away Home (2010)
Sylvie Woodruff is the poised and gracious senator's wife, with two daughters, Diana and Lizzie. She is so gracious in fact that she still stays with her high-profile husband after he has an affair. Diana and Lizzie are no better off, with their lives also having turmoil of some sort.
Physician Diana is married with a son and seems to have it all. However, when temptation arises in the form of a resident doctor, Diana can't resist. Lizzie is a recovering drug addict whose life is turned upside down when she gets pregnant.
The story is told by all three women but it doesn't build each character up enough to make the reader want to know what happens to them. It falls flat in parts yet it redeems itself when the three women find solace and comfort in each other - something that was hard for them to do. It's not one of Weiner's best but it's still worth a look. (AS)

---
Best Friends Forever (2009)
Addie Downs and Valerie Adler were best friends but one day in high school changed their relationship forever and they stopped talking. Addie went on to become a greeting card illustrator while Valerie has become a local celebrity doing the weather for a Chicago news network.
On the night of their 15th high school reunion, Valerie shows up at Addie's door, wearing a bloodstained coat and asking for help. A bitter Addie at first wants nothing to do with Valerie but finds she can't say no. She ends up being a suspect as police investigate a possible crime scene. As someone who has stayed largely hidden to society for years, this may be the chance for Addie to find her best friend again and possibly the love of her life as well.
A great book defining friendships and what you would do for friends. With lots of twists and turns, I recommend reading this with your best friend.(CG)

---
---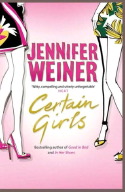 Certain Girls (2008)
Cannie Shapiro, from Weiner's 2001 book Good in Bed, is back - and in her world it's 13 years down the track. Still plus-sized and feisty, she has married her diet doctor, Peter Krushelevansky, become a best-selling novelist and is now writing science fiction under a pseudonym. Her biggest priority in life is getting ready for her daughter Joy's bat mitzvah.
But the adolescent Joy is tiring of her mother's constant attention and is looking for a place in the in crowd and a closer relationship with her father Bruce. When she gets her hands on Cannie's novel Big Girls Don't Cry, a thinly disguised memoir written in anger after Bruce left, Joy wonders how much of it is true. Meanwhile Peter announces that he wants a baby - which means finding a surrogate mother.
With Weiner's novels, you know you're on a certain thing - expect flawed but intriguing characters, family dramas and emotional twists. But this one is certainly not my favourite. The mother-daughter dynamics are well explored, the unexpected fate of one of the characters gives a power-punch towards the end but the surrogacy sub-plot shouldn't have been so sidelined.

---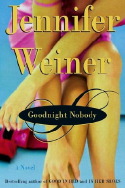 Goodnight Nobody (2006)
Kate Klein is a mother of three under five and is married to political consultant Ben. They move from New York to Connecticut after she is pram-mugged. Finding it hard to fit in, Kate is invited to lunch by Kitty Cavanaugh because they share 'an acquaintance'. But when she arrives, she discovers Kitty has been stabbed to death. Despite the warnings of the police chief and her husband to leave the crime-fighting to professionals, Kate launches an investigation - delving into Kitty's double life while the kids are at nursery school.

---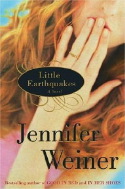 Little Earthquakes (2004)
One of my favourite all-time books, this is the story of three women who meet up at a prenatal yoga class. There's Becky, a plump chef who's at war with her mother-in-law; Kelly, an overachieving event planner who has to return to work after her husband loses his job; and Ayinde, who's married to basketball star Richard. Ayinde goes into labour after the class, so Kelly and Becky take her to hospital. Richard arrives just in time for the birth of Julian - smelling like perfume (. . . the things that make you go hmmm!)

---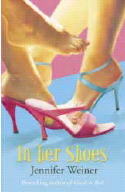 In Her Shoes (2002)
Sisters Rose and Maggie Feller have nothing in common apart from the same shoe size, a dead mother and a wicked stepmother Sydelle. But they have stuck together through thick and thin. But then Rose, a down-to-earth attorney, catches the wild and gorgeous Maggie with her boyfriend, colleague Jim, and throws her out of her apartment and life.
Maggie, who fails an MTV screen test because of her dyslexia, takes off to Princeton University where she squats in the library. Rose quits her job, takes up dog walking and starts dating former colleague Simon. Then Maggie rediscovers her grandmother Ella, and heads to stay with her in Florida. The book was adapted into a film starring Toni Collette (Rose) and Cameron Diaz (Maggie).

---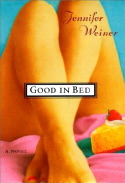 Good in Bed (2001)
Plus-sized culture reporter Cannie Shapiro is horrified when her ex-boyfriend Bruce writes a magazine column on the topic of Loving a Larger Woman. Amid the humiliation, Cannie decides it's time to change some things in her life. She joins a weight-loss program, gets stuck into writing a screenplay and befriends a Hollywood actress. And just as she decides she's better off without Bruce, he brings an unexpected complication into her life.