JANE CORRY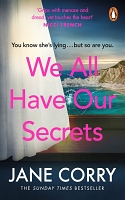 We All Have Our Secrets (2022)
Midwife Emily is suspended from duties after an incident during the birth of a child. She leaves London to stay with her 93-year-old-father Harold at Willowmead House in Cornwall.
There she discovers that a young French woman, Francoise, has moved in as his carer and Emily can't help but react with suspicion and jealousy to their close relationship.
This domestic suspense novel revolves around mistrust as everyone is keeping secrets, including dating all the way back to World War II. I was enjoying the various reveals throughout but perhaps the ending was a bit too contrived.

---
Blood Sisters (2017)
Alison works as a college art teacher and, to earn more money, she teaches art in an open prison to men who are considered low-risk. Kitty lives in a care facility because of a brain injury that prevents her from talking, although her thoughts are loud and clear.
Both Alison and Kitty's lives drastically changed after an accident that happened 15 years before. Kitty doesn't remember the accident, although her memories are slowly coming back, while Alison's guilt prevents her from having a normal social life.
This is a dark and chilling story about sibling rivalry and secrets. The author deftly portrays life inside a prison and a care facility. I found the characters not particularly likable but they are well-developed and full of surprises.
At the beginning of the novel, there were things that seemed unbelievable and too much of a coincidence. But as the narration alternates between the past and the present, the suspense slowly builds, secrets are revealed and there are twists and turns until the very last page that kept me completely immersed. (NP)

---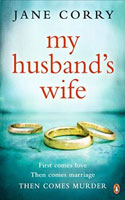 My Husband's Wife (2016)
Lily married Ed two months after meeting him. After the initial excitement, things don't seem right between them since they both are keeping secrets from one another.
Ed's dream is to become a famous painter while Lily works as a lawyer and her new client is Joe, a prisoner who is accused of having killed his girlfriend. Lily and Ed's neighbours are a young Italian woman and her nine-year-old daughter, Carla.
The narration alternates between Lily and Carla as their lives cross and connect. Although the narration is a bit slow sometimes, the plot of the story is really good with twists and turns that kept me intrigued and in suspense until the end. (NP)