JAMIE BRENNER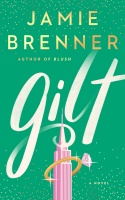 Gilt (2022)
Gemma Maybrook has just finished her college degree and is set to make a name as a jewellery designer in Manhattan. But first she wants to know what happened to her legacy – the Electric Rose diamond ring which belonged to her late mother Paulina, one of three sisters from the Pavlin jewellery dynasty.
After her parents' death in a boating accident, Gemma was raised by her father's family and has had nothing to do with the Pavlins. But now she seeks to make contact with her estranged aunts after all these years.
Set mainly in Provincetown (Cape Cod), this is a richly captivating story that delves into a deep family rift to find out if blood is thicker than diamonds.

---