JAMES WEIR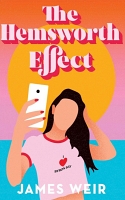 The Hemsworth Effect (2022)
Aimee is dismayed to find out that the landlord of her bookstore premises is selling up. It is all part of the 'celebrification' of Byron Bay, with locals being pushed out by the wealthier newcomers and high-profile holidaymakers, all attracted to the area because stars such as Chris Hemsworth live there.
When the executive producer of a reality TV show witnesses her rant against the unwelcome changes to her laidback beach town, Aimee is dubbed 'Byron Karen' and is enticed by her growing financial need to be cast on the show.
Aimee is also having a time-out from her relationship with fiance and childhood sweetheart Tim, and his new squeeze is an influencer who is also appearing on The Brats of Byron Bay.
Written by a newspaper journalist known for his witty recaps of reality TV shows such as The Bachelor, this story skewers the inflood of newcomers flaunting their cash, hipsters gripping their keep cups, and influencers living their best lives in an iconic Australian location. It's an entertaining and amusing read but perhaps too many elements were squeezed in.

---