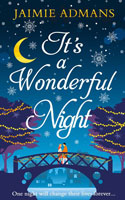 It's a Wonderful Night, by Jaimie Admans, shows that even in the darkest of times, hope is always just around the corner.
The summary says: "One night will change their lives forever... Georgia Bailey is closing up her little charity shop in Oakbarrow when she gets a mysterious late-night call from a stranger, threatening to jump off the town's bridge.
Something about the man's voice is faintly familiar but all she can do is stay on the line and after talking for hours, losing sense of time passing, coax him back from the edge.
The next morning, Georgia walks to work, buys a festive latte from Leo (who she's had a crush on for months!) at the local coffee shop, and is shocked when she suddenly recognises the voice from last night."
TEXT