IMAN HARIRI-KIA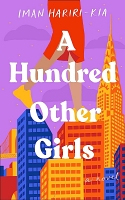 A Hundred Other Girls (2023)
Noora is a blogger and tutor to rich kids until she lands a job as assistant to Vinyl magazine's editor-in-chief Loretta James. She can't believe her luck as she's been a fan of Vinyl since she was a girl.
But Noora has walked straight into a feud between the Print and Digital divisions of the organisation. Loretta is a nightmare boss and one of the conditions of her employment is that Noora doesn't write anything apart from her NoorYorkCity blog.
This was billed as The Devil Wears Prada for the next generation and those are pretty big shoes to fill. Alas it doesn't get close to reaching the heights of that classic novel.
Some of the going-ons don't really make sense and I got to the end still not knowing why some of the characters acted the way they did. But extra points for the character diversity – and for giving it a go.