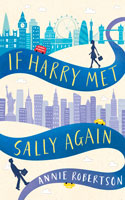 If Harry Met Sally Again, by Annie Robertson, asks: can you write your own happy ending?
The summary says: "Nina Gillespie has learned to settle. True, her dreams of being a Hollywood scriptwriter are somewhat on hold, her sequel to the most beloved rom com of all time - If Harry Met Sally - is gathering dust in her desk drawer, and her long-term relationship has lost a bit of spark. She might live and breathe Nora Ephron films, but life isn't like a romantic comedy, is it?
But when she discovers her boyfriend in bed with another woman, Nina is determined to become the heroine of her own life and finally finish her screenplay. There's nothing standing between her and the New York brownstone she's always dreamed of - apart from cynical Hollywood producers, her best friend's turbulent marriage, and Ben, her utterly infuriating co-writer.
As the film, and her own feelings, become ever more complicated, Nina must choose between seizing her chance of success, and staying true to what she's always wanted - for Harry, Sally and herself. It turns out that happy endings are hard to come by, even when you're writing the script." If Harry Met Sally Again is out in April 2019.
TEXT