HOLLY SMALE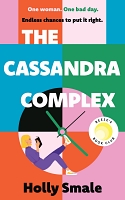 The Cassandra Complex (2023)
aka Cassandra in Reverse
Cassandra sees emotions as colours, is obsessed with Greek mythology, wears the same outfit every day, and finds it difficult to relate to people. Will, her boyfriend of four months, has just broken up with her to travel to India to make a wildlife documentary, and her PR boss has just fired her after a client didn't want to work with her.
After a meltdown, Cassandra finds she is reliving that day all over again and soon figures out by tinkering with her ability to time travel back a few months, she might be able to put things right again.
This story with a neurodivergent lead - no doubt inspired by the author's autism diagnosis in her late 30s – is about second chances, making old and new connections, and finding your place in the world. It was an interesting read but I wanted to like this story much more than I actually did.