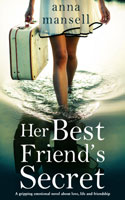 The truth could ruin someone's life in Her Best Friend's Secret, by Anna Mansell.
The summary says: "Your best friend deserves the truth. But it will ruin her life. What would you do?
In summer, the small Cornish village of Gorran Haven fills with tourists, but in the colder months its pretty narrow streets are blissfully quiet, the bell on the village shop door rings only for locals, the beach is unspoilt, empty and safe. It's been over twenty years since four very different teenage girls sat on that beach, and swore to be best friends forever. Their lives went different ways after Emily left. But each remembered that promise. And none truly found friendship like it again.
Now, Emily's back, with a secret she can't face. She tries to hide away, take time to heal and make some difficult choices, but she runs into one of her old friends, and soon the four are reunited. Lolly, warm as ever, is a successful physiotherapist, married with kids. Yet smart, strong Amanda, who cherishes her teenage daughter, is alone and seemingly stuck in a dead-end job. And creative Jess is so much quieter than Emily remembers.
The bond is still there, and Emily realises their friendship might keep her together, but there are reasons why the women fell out of touch. Secrets that have lain dormant for decades start to surface, and then one of the women discovers a betrayal so big, it could turn each of their lives upside down.
It's always those we're closest to who have the power to tear us apart. Can friendship give Emily and her friends the strength to survive a devastating shock, or are some things unforgiveable?" Her Best Friend's Secret is out in April 2019.
TEXT