HELLY ACTON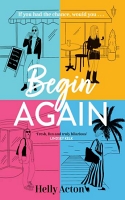 Begin Again (2023)
Celebrity gossip columnist Frankie dies slipping outside a kebab shop after a bad date. She arrives at The Station where she is told she gets to spend 24 hours in each of the five lives she could have had, had she made different choices in life. She can then choose which one she would like to return to.
This is a great read for anyone wondering about the 'what ifs' of the path not travelled when they have faced a fork in the road. As Frankie reflects on key turning points in her life, she learns that each different scenario has its advantages and disadvantages. Witty, well-executed and thought-provoking – I highly recommend.

---
The Couple (2021)
Millie works for tech firm Slide and has been steadily working towards her goal of becoming chief creative officer before she's thirty. Slide is known for its strings-free hook-up app but is heralding a new product - a pill that makes you immune to feeling romantic love. Because in this world, it is preferable to be single, and those who are a couple face ostracisation.
As Millie works on a pitch for the pill with new Welsh colleague Ben, she can't stop thinking about him. But no one wants to be in a couple, right?
The author has created an interesting alternate reality where being single for life is the social norm, which adds an extra layer of conflict to the usual will-they-or-won't-they romance. Definitely one to read for its intriguing concept.

---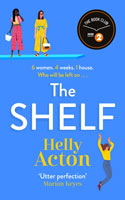 The Shelf (2020)
Amy thinks her boyfriend Jamie is taking her for a surprise holiday (where he just might propose) but instead he dumps her on the set of a reality TV show called The Shelf. The women on the show have all been left there by their partners to face up to what they do wrong in relationships and vie for a million-dollar prize if they are crowned 'The Keeper'.
As the show grows in popularity, the contestants fight back against the sexist elements of the concept and learn lessons about themselves and what they are willing to accept in life.
At last a book about a reality TV show that is actually about a reality TV show!! For most of the story, The Shelf takes us right into the Big Brother-style setting with its challenges, therapy room, public voting and social media wall. And it is to be applauded for its strong 'don't accept this shit, ladies' message. One to pass on to your girlfriends.

---