HELEN FISHER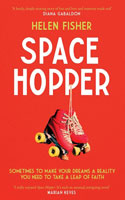 Space Hopper (2021)
aka Faye, Faraway
Faye's mother died when she was young so she went to live with the kindly neighbours. Now she is married to Eddie, who wants to become a vicar, and they have two young daughters. One of Faye's most cherished items from her childhood is a Christmas photo showing herself sitting in a cardboard box that once contained a space hopper (a bouncing toy). She evens still has that battered box in the attic.
Somehow that box transports Faye back to her 1970s childhood where she is stoked to have the opportunity to spend time with her mother again. But by hanging out in the past, is she risking not being around for her own family?
This was a heartfelt story narrated by a woman who felt like she had a piece of herself missing. It delved into long-held grief, choices and taking a leap of faith. Being a child of the 70s myself meant I had an instant connection to this rather magical story.

---