HEATHER COCKS & JESSICA MORGAN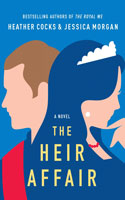 The Heir Affair (2020)
Continuing on from The Royal We, Bex and her prince are hiding out in Scotland after their fairytale royal wedding went pear-shaped. The palace and the press are furious about rumours of Bex having an affair with Nick's brother, Freddie.
However, the Duke and Duchess are eventually forced to leave their incognito life when they get a message to return to London because the Queen is gravely ill.
Moving into the late Princess Georgina's home (the Queen's flamboyant sister), Bex uncovers some diaries which could shake the whole monarchy.
Not as strong as the first book but still an enjoyable royal romp with plenty of family dysfunction and drama. I also think this is a sequel that works best if you do read the first in the series.

---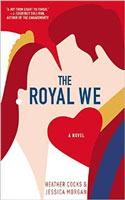 The Royal We (2015)
American Rebecca Porter is about to marry into British royalty. Even though it was always her more accomplished twin Lacey who dreamt of being a princess, it is Bex who has snagged the world's most eligible bachelor, Nick, the future king of England.
The story opens on the eve of their wedding and then returns to the time when Bex meets Nick at Oxford. With a cold and distant father, and an overbearing duty to his country, Nick is forced to kept their relationship a secret from everyone but their closest circle for years.
The story of Nick and Bex (nicknamed Posh and Bex by the tabloids) obviously was inspired by the romance between Prince William and Kate, which also began in their university days. The Lyons dynasty has parallels with the House of Windsor - including most noteably a ginger-haired scallywag of a younger brother, Freddie. But Nick's mother isn't dead but is a recluse, and Queen Eleanor is a widow.
It is a highly entertaining story with a cute chemistry between the two lovers. Most importantly, I believe these two Americans really nailed the whole English setting. It gets the royal seal of approval from me!

---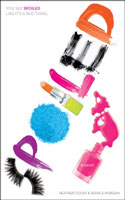 Spoiled (2011)
What would you do if you just found out that your father was one of the world's hottest celebrities? Would you pass out? Brag to your friends? That's what happens to Molly Dix after her mother dies and she is forced to move from her tiny Midwestern town (leaving her long-time boyfriend behind) to Hollywood, where she knows no one and everyone is out to make her look like a fool for being the new girl.
This is especially true with Molly's new "sister" Brooke, who sees Molly as nothing more than an inconvenience and someone who stands between her and her famous father, Brick Berlin. So when Brooke decides to make Molly's life as hard as possible, Molly has to either step up her game or go back to her hillbilly roots with her tail between her legs.
Filled with glitz, glamour and teens with black AMEX cards, this is a story that seems so Hollywood it could be an actual tabloid story. The Fug girls give it a lot of wit and sarcasm that will make readers feel like they're reading the secret diaries of two tabloid staples. A definite read if you love Hollywood, bitchy girls and lots of fake tan. Even if you don't like those things, you'll still like Molly for her down-to-earth goodness and for having the perseverance to stick it out when things get ugly. (AS)