HANNAH TOVEY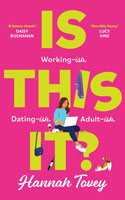 Is This It? (2021)
Thirty-something Ivy has decided to turn her life around. She still hangs out with her besties Mia and Dan but is moving on from a broken engagement with Jamie. Ready to get her adult life started, Ivy enrols in teacher training and assists in the classroom of Mr Reid.
When she meets a guy called Scott, it seems she may have just hit the jackpot – proper job plus gorgeous fella.
This is the sequel to The Education of Ivy Edwards which continues the story of a Welsh woman living in London. It is an endearing story full of family ties, friendship and finding your feet. I really enjoyed the classroom scenes which makes it a great book for teachers too.

---