GRETEL KILLEEN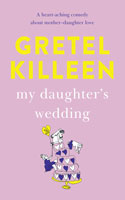 My Daughter's Wedding (2021)
Nora's estranged daughter, Hope, has just made contact again to say she's coming back to get married. And she needs her mum to help plan – and finance – the wedding.
The story, told mostly through Nora's diary entries, is a witty one as she shares their exploits as they prepare for the wedding and meet the fiance's family.
So far so good, right? However, the plot became more ridiculous by the minute and Nora as a mother and character was such a complete mess that I just couldn't enjoy the ride.

---