GEORGINA MOORE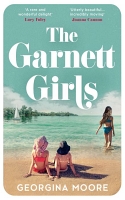 The Garnett Girls (2023)
Margo and Richard got together when she was a teenager but he was too fond of the drink and eventually left her to raise their three daughters by herself.
The oldest daughter, Rachel, now a lawyer and mother of two, felt responsible for her sisters when their mother fell apart. She has now been given the family home on the Isle of Wight, where she lives with her amicable husband Gabriel and kids, but she would really prefer to return to London.
Playwright Imogen is in Venice expecting her boyfriend, William, to propose but she doesn't feel that excited about the prospect.
Sasha is married to a controlling husband who doesn't get on with her family. And she is running out of time to reveal a secret to her siblings.
This debut story examines how the three sisters' childhood has affected them and their relationship with their mother, who exerts a forceful matriarchal presence amid her love of entertaining.
With its evocative setting and intimate character portrayals, it was an emotional family drama. However, I found there were too many characters which made it harder to immerse myself in their stories.

---