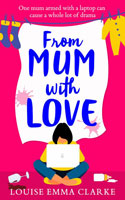 Mum of Boys and Mabel blogger Louise Emma Clarke has written her debut novel, From Mum with Love.
The summary says: "Mum of one Jess has had enough of endless diaper-filled days and her husband Chris has just the solution to vent her frustrations - a blog.
Jess loves her daughter more than anything, but sometimes she just wants a little bit of freedom - some time for herself. Cue a laptop, a glass of wine and the beginning of a life-changing journey.
Overnight Jess' inbox is full of notifications and before long she is officially a 'mummy blogger' but this new life comes with its own set of rules and regulations. With Queen of the Bloggers, Tiggy, blanking her in public, people recognising her on the street and her life decisions suddenly judged by strangers Jess' idea of 'me time' is slowly becoming a full-time job.
Will Jess be able to find the right life/work balance? Or will she wish she'd never turned to a world online?" From Mum with Love is out February 2019.
TEXT