FRAN LITTLEWOOD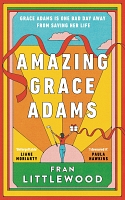 Amazing Grace Adams (2023)
Talented linguist Grace is stuck in a traffic jam when she decides to get out and abandon her car. Because she desperately needs to pick up the cake for her daughter Lottie's sixteenth birthday party. However, Grace is not invited to the party because Lottie is no longer talking to her and lives with her dad Ben.
As a hot, sweaty and increasingly erratic Grace continues her quest, the story also backtracks to the time she met Ben, and also to a few months earlier when things started to unravel with her daughter.
With an unforgettable character, this was an awesome debut about a midlife meltdown. Combining funny, poignant and unhinged moments, it was a thoroughly entertaining tale that unveiled what led to this one crazy day.

---