FIONA O'BRIEN
The Love Book (2012)
Three boarding school students, Abby, Diana and Vonnie, visit St Valentine's shrine in Dublin to leave their love petitions in a special book. They vow to meet up in years to come to see whether their romantic wishes came true. Vonnie took off to America, leaving behind the family she never really felt a part of. Now she is returning to Ireland, with her young daughter, Jazz, in tow. What went wrong with her relationship with Jazz's father? Diana has become a successful make-up artist but would now like to take some time out. But not if she has to count on husband Greg for support. As for Abby, she married dashing doctor Edward but is worried she might have trapped him. Now her mother has moved in and is sowing the seeds that Edward is having an affair. Told from multiple perspectives, this is an engaging read which slowly reveals how the women's lives and loves have unfolded. All the way through, an affair has its own separate story thread, which leaves you guessing which characters are involved.

---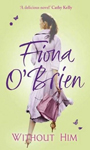 Without Him (2010)
Shelley's husband, Charlie, has disappeared after his Irish business empire collapses. With her three children, Olivia, Emma and Mac, she is left to move in with his estranged mother, Vera. It appears that Charlie has headed off to Cape Town, where he is seen with another woman. Meanwhile, Shelley starts working in an art gallery, where she draws the attention of a Russian oligarch, Lukaz, who has ties to Charlie. Told from various viewpoints, including Charlie, his family members, his former girlfriend Caroline; and Lukaz; it is slowly revealed what Charlie is up to and why he fell out with his mother all those years ago. The intrigue turns this into a real page-turner, with its deft slow reveals engaging the reader's interest throughout.

---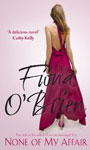 None of My Affair (2008)
Carrie is thinking of finally leaving her philandering husband, Rob, when her supermodel daughter Ali announces her engagement. With the wedding to take place on a friend's luxurious yacht off the coast of Marbella, the couple decide to delay their separation. Daughter Hope, who moved to Spain to escape her family and work on a photography book, is less than enamoured to have them descend on her to prepare for the wedding. Meanwhile Rob's mistress, TV presenter Olwen, is having second thoughts, and Carrie's friend Jay will do anything to hold on to her own husband, Frank. I found I didn't really care for any of these characters and even the explosive ending couldn't save the story.