FIONA McCALLUM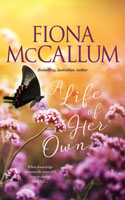 A Life of Her Own (2019)
Alice has finished her university degree in history and has just bought a property with her partner, David. He is very keen for her to get a full-time job but Alice isn't really sure what direction she wants to take.
When she is offered a position as PA to high-flying real estate agent Carmel Gold, Alice thinks she's scored her dream job. But things turn out more like a nightmare.
Although I enjoyed this story, I didn't relate to Alice at all. She was a bit of a wuss really, and it wasn't until later in the book that it became clear why she was so sensitive. I also felt the author did too much telling, rather than showing, particularly around what could have been some powerful interactions between Alice and her new boss.
For those who do find more of an affinity with Alice, her story continues in sequel The Long Road Home, with a focus on ex-husband Rick.

---