EVA CARTER
aka Kate Harrison
---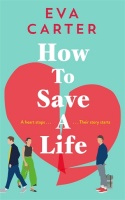 How to Save a Life (2021)
Joel's heart stops while playing soccer with friends on the eve of the new millennium. His schoolmate, Kerry, notices and rushes to perform CPR. Her friend, Tim, is also trained in first aid but freezes.
That moment plays out over their three lives for years to come. Joel is resentful about his changed life, Kerry is more determined than ever to go to medical school, and Tim is worried he won't ever make a good doctor.
Set over nearly two decades, this brilliant coming-of-age story also comes with an important message that everyone should learn CPR because every second counts.

---