EVA CARTER
aka Kate Harrison
---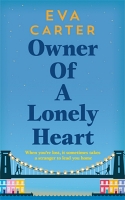 Owner of a Lonely Heart (2022)
Widow Gemma volunteers at the hospital with her therapy dog Bear and this is where she meets Casey. The 12-year-old, who is in Bristol for a month to receive treatment for a brain tumour, is staying with Dan, the father she had never met before.
Dan is worried that he'll let his daughter down, like he always has. But an encounter with Gemma leads him to getting to know his daughter better and face up to his past.
Told from the viewpoints of the three main characters (with some poignant words left behind by Gemma's husband), this moving story made it easy to feel sympathetic towards each of them. It's a book about healing – in its many forms.

---
How to Save a Life (2021)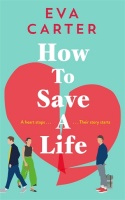 Joel's heart stops while playing soccer with friends on the eve of the new millennium. His schoolmate, Kerry, notices and rushes to perform CPR. Her friend, Tim, is also trained in first aid but freezes.
That moment plays out over their three lives for years to come. Joel is resentful about his changed life, Kerry is more determined than ever to go to medical school, and Tim is worried he won't ever make a good doctor.
Set over nearly two decades, this brilliant coming-of-age story also comes with an important message that everyone should learn CPR because every second counts.

---