ERIN LAWLESS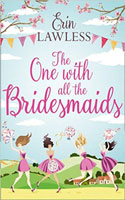 The One With All the Bridesmaids (2017)
First published as a four-part novella series, this book centres around the countdown to Nora and Harry's wedding, and the lives of the four bridesmaids. Bea is feeling guilty about an incident from the past. Cleo is keen on fellow teacher Clay but isn't too confident about taking the next step. Sarah – the only married one – is trying to start a family, while American Daisy is still playing the field.
Employing the long-time friends motif that Lawless favours, the story follows the path to the big day, with an engagement party, gown shopping, a hen's weekend to Paris and a New Year's Eve wedding. With a handful of characters to follow, none were particularly memorable and the overall story felt disjointed and lacked any real punch. The real-life wedding tales leading into some chapters were a nice touch. But if you could only pick up one book from this usually amazing author, then I'm recommend this is The One to Miss.

---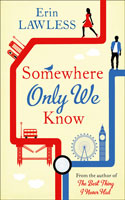 Somewhere Only We Know (2015)
Alex isn't exactly living a thrilling life. His desk job for the immigration department is safe but boring, he has the hots for his best mate's girl and his social life is hardly firing. But then he becomes friends with Nadia, a vivacious Russian who has lived in England most of her life but is facing deportation. Leading up to her final appeal, Nadia ticks off her bucket list of things to see and experience in London. Taking Alex along for the ride, she helps him appreciate life again - and perhaps realise his new friend may also be his perfect girl.
Told from both Alex and Nadia's viewpoints, there is also an interesting ensemble of minor characters, including the unrequited love Lila and the dedicated friend Holly. This is a heartwarming read with endearing characters and a message about living life to the full.

---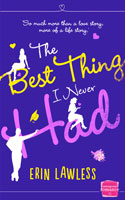 The Best Thing I Never Had (2013)
The invitations for Nicky and Miles' wedding have gone out. Their special day will bring together their friends from their university days - Harriet, Leigha, Sukie, Adam and Johnny - for the first time in five years. The story then backtracks to the group of friends forming and the relationships that develop. Leigha has her eye on Adam, Johnny is mad keen on Leigha, and Adam can't help but fancy Harriet. And Harriet? While she is attracted to Adam, she would never go there out of respect for her best friend, Leigha. So what happens to force this close-knit group to splinter?
While I was expecting more fireworks at the end, as the group confront each other at the wedding, this is a superb debut about complicated ties, betrayal and lies, and is one of my favourite books of the year.