EMMA ROSENBLUM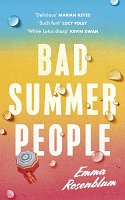 Bad Summer People (2023)
The usual wealthy families have headed over to Salcombe on Fire Island for the summer. There's Sam, who doesn't realise his childhood best friend Jason actually despises him and lusts after his wife, Jen.
Jason's wife, Lauren, has caught the eye of the young tennis pro Robert, who's looking to make some quick cash and connections. And then there's Rachel, still single and determined to win the tennis doubles championship this year.
Before the end of the season, a body will be found near the boardwalk. But who is it and how did they get there?
Amid the tennis rivalry, secret affairs and back-stabbing gossip, this was one heck of a black comedy written from multiple perspectives. Devoured it!