EMMA ROBINSON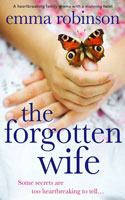 The Forgotten Wife (2020)
Travel consultant Shelley has basically shut herself away since her husband, Greg, left. But then Lara and her husband move in next door - Lara is pregnant and no longer working as a lawyer so is looking for company. Inspired by a Marie Kondo-type book, she offers to help clear out Shelley's spare room where she has stored Greg's belongings. Amid the decluttering, the pair find that their unexpected bond is therapeutic.
This is a story about isolation and loss, hope and friendship as the two women share and heal from their heartaches. The women's stories will resonate with many and it makes for a highly emotional story. The downside: Although the author worked to conceal some of the past events and connections, the truth was too easily guessed.

---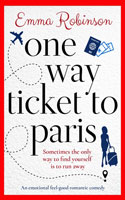 One Way Ticket to Paris (2018)
Mother-of-two Kate has been feeling overwhelmed, particularly since the death of her father. And he once told her if you ever lose something, go back to the place you last had it. So Kate buys a one-way ticket to Paris, the place she last remembers feeling like herself. She's hoping to spend some time with her best friend who lives in France, but Shannon has a big work conference on as well as her own issues to deal with. Meanwhile on the train there, Kate gets chatting to Laura who confesses that her long-term boyfriend just won't commit.
This story focuses on three women who hope to find some clarity about their future direction over the course of a weekend in Paris. The story flows well from one character to another, however some of their problems seemed contrived, which kept me at a distance as a reader. Plus the resolutions felt far too rushed, leaving me with a neat but unsatisfactory ending.

---
The Undercover Mother (2018)
Jenny made a name for herself writing the Girl About Town magazine column about the hip and happening nightclub scene but now she's married to Dan and about to pop out a baby. So when her column is handed over to a younger colleague, Jenny proposes writing a mummy blog during her maternity leave, focusing on being a fish out of water in the world of parenting.
Trying to impress her boss and win over readers, Jenny befriends the women of her antenatal class and, unbeknownst to them, uses them as fodder for her blog. The Spice Mums, as she dubs them, comprises young earth mum and yoga teacher Naomi as Sporty, the well-to-do Antonia as Posh, independent businesswoman Gail as Scary, while Ruth, or Ginger, has had a battle trying to conceive.
This is an entertaining story that makes the perfect read for new mums. Most mothers will identify with what these women go through – from sleep deprivation and dirty nappies to having to alter your work ambitions after starting a family. All in all, it's a very promising debut.