EMMA GREY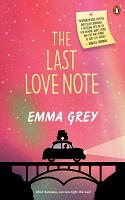 The Last Love Note (2023)
After her loving and brilliant husband Cam dies from early-onset Alzheimer's, Kate is left a young widow raising their young son and surrounded by post-it notes written by Cam.
Her boss, Hugh, has been a mountain of support for her over the years, and now they are stuck in Byron Bay due to bad weather.
From the opening scene with the hand grenade (not a usual prop in these types of stories!), I knew this book would be amazing. Most of the story is told two years after his death but also includes recaps to the time around Cam's diagnosis. It's a moving and relatable story, inspired by the author's own heartbreaking loss. Put this on your absolutely must-read list.