EMMA BURSTALL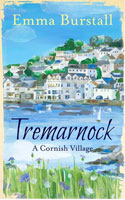 Tremarnock (2015)
Liz Broome moved to the small seaside village of Tremarnock to start a nice and quiet life with her daughter, Rosie. Rosie's father is too busy with other things to think of his daughter, and Liz's father appears to have his hands full with his new wife and step-daughter. It's just Liz and Rosie, but Liz does her very best to create a good life for her daughter. She works as a cleaner in the morning and as a waitress in a local restaurant in the evening. Rosie has cerebral palsy, but it's something she has learned to deal with and except for some occasional bullies at school, Rosie loves her life with her mum in Tremarnock. But trouble is just around the corner, and Liz and Rosie's lives are about to be turned upside down. Tremarnock is a promising first part of Emma Burstall's new trilogy. The book has a stunning cover which immediately made me think of a lovely quiet Cornish village, but you never know what goes on behind closed doors and that definitely counts for Tremarnock as well. The story wasn't as light-hearted as I had initially expected, but I won't go into the plotline too much because I don't want to give too much away. Liz and Rosie have a great mother-daughter relationship which plays a central role in the novel. While there are some wonderful secondary characters, such as Robert, the owner of restaurant A Winkle in Time, and Pat, Liz's helpful neighbour who babysits Rosie whenever it's necessary, I got the feeling too many inhabitants of Tremarnock were introduced. I found it tricky to remember all the names, especially since some of the characters don't really play a big part in this instalment of the series. The story became a bit slow-paced in the middle, but overall it was an entertaining and gripping read. (JoH)

---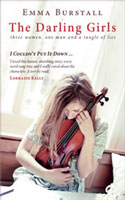 The Darling Girls (2012)
When world-famous conductor Leo Bruck dies, he leaves behind three grieving women with a mass of unanswered questions. Victoria, the mother of his two children, sees herself as his rightful widow and is relying on a legacy to keep her children and herself comfortable. But when she begins to uncover some shocking secrets from Leo's past, she wonders if she ever really knew him at all. Maddy has been Leo's mistress for eight years, and they have a daughter together. She seems to be an independent woman, with her life sorted, until she gets involved with Victoria's teenage son, and her hard-earned security begins to fall apart. Cat had been Leo's lover for just a year, but as she is already coping with her sick mother and troubled childhood, she takes Leo's death quite hard. And when tragedy strikes her again, she finds it hard to hold it together. The three women are brought together by Leo's death, but can they move on with their lives or will they continue to be under Leo's control? This was an interesting take on adultery, viewing it from the perspective of wife (in all but name), mistresses and the children involved. It delved into how infidelity can affect so many lives in varying ways, and made for an interesting read. The three women involved with Leo are left to pick up the pieces of their lives after his death, and explore exactly what he meant to each of them. As we watch the story unfold, it is touching to see their friendships blossom even under impossible circumstances. An inspiring story of how unexpectedly good things can arise from bad situations. (LO)

---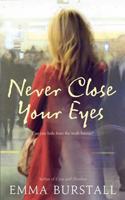 Never Close Your Eyes (2009)
The story opens with an incident back in Newcastle in 1978, when a fight between two sisters changes their lives forever. Then the story moves forward to the present day in London, with three women attending a creative writing group. Mother of two Evie, who works from home as a wedding gown designer, is still hoping to get back with her husband Neil and spends a lot of time and money talking to a clairvoyant. Becca's high-flying financial career often takes her away from her family. Meanwhile journalist Nic's drinking problem is starting to get out of hand but husband Alan is too busy working in his study to pay much attention. This is a vivid, often dark, tale about tangled relationships. From a vulnerable daughter and an unwelcome blast from the past to a comforting neighbour and an eccentric older woman, eventually all the story threads are woven together.

---
Gym and Slimline (2008)
Four women become friends through sharing the same London gym. There's Percy who is gambling with her family's future through her addiction to online poker and her attraction to her personal trainer. Patrice would love another child but her controlling lawyer husband Jonty simply isn't interested in sex. Interior decorator Carmen also wants a baby but her often-absent boyfriend Simon doesn't want to wreck their easy lifestyle. And Suzanne already has four children who are looked after by her younger house-husband Justin while she forges a successful corporate career. As the women stretch and flex their bodies, several relationships will be tested to breaking point.