EMILY WIBBERLEY
and AUSTIN SIEGEMUND-BROKA
---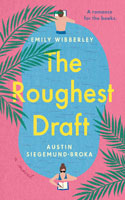 The Roughest Draft (2022)
Katrina and Nathan wrote a best-selling novel about infidelity together but towards the end, their partnership fell apart. Katrina went on to marry their agent and retire from writing, while Nathan divorced his wife and continued to pen books that never took off.
With his publisher disinterested in his latest idea, Nathan is told his career rests on working with Katrina again. But Katrina is hardly likely to agree, is she?
Written by a real-life couple, this story about a troubled writing partnership had potential but it ended up falling flat. There was nothing wrong with the writing style but the plot was bland and boring, especially because what broke the writing powerhouse up was hardly earth-shattering.

---