EMILY KERR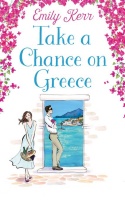 Take a Chance on Greece (2022)
A hungover Lydia is heading home from a girls' holiday in Kefalonia when she realises she has no memory of getting the tattoo on her back that says 'Awesome Andreas'. And she has no idea who Andreas is either.
So Lydia makes the rash decision to return to the Greek isle to track down the mystery man.
This was a fun and breezy holiday read with an endearing heroine, vivid setting, and delightful love interest. Well worth taking a chance on this new author.

---