EMILY HARDING
and Audrey Bellezza
---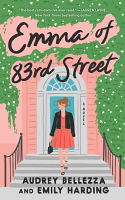 Emma of 83rd Street (2023)
Emma Woodhouse lives on East 83rd Street New York, backing on to her childhood friend George Knightley's property. With very little to distress or vex her, she is delighted when her sister Margo and his brother Ben get engaged.
At college, where she is doing a masters in art history to hopefully score an internship at the Met based on merit and not her family connections, Emma meets Nadine from Ohio who desperately needs her assistance with a makeover and some matchmaking.
This was an adorable modern take on Jane Austen's Emma and is one of my favourite books of the year.