EMILY EDWARDS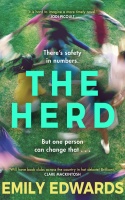 The Herd (2022)
Long-term friends Elizabeth and Bryony are godmothers to each other's daughters. Elizabeth's daughter, Clemmie, had seizures as a baby so was advised not to vaccinate. Bry hasn't vaccinated daughter Alba because her brother has severe autism that her mother linked to his MMR jab.
A lie before a birthday party has far-reaching consequences for their families and their friendship.
Set in 2019 before the controversy around vaccinations got even more heated due to covid, this domestic drama makes for a great book club discussion, especially as both characters were given understandable reasons for their actions. All in all, a well-executed and timely read about the polarising views that develop as mothers protect their children.

---