ELYSSA FRIEDLAND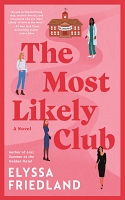 The Most Likely Club (2022)
In the class of 1997 at Bellport Academy, Melissa was voted Most Likely to Win the White House, Priya to Cure Cancer, Tara to Open a Michelin-Starred Restaurant, and Suki to Join the Forbes 400.
It's now their 25th high school reunion and the closest that Mel has got to politics is her long-standing position as PTA president – and reunion organiser.
Priya is a doctor, married to a doctor, but her home responsibilities mean she may have to pass up a big promotion. And Tara runs cooking classes for kids.
Only Suki has reached her yearbook superlative potential, having made her fortune running a make-up app company. So the other three make a pledge to revisit their dreams.
This story is about living up to your teenage aspirations – and facing the reality in middle age that things don't necessarily go to plan. High school reunion stories are always a drawcard for me and of course there is always a nerd made good. Many will enjoy the 90s cultural references but I'm not so sure about the stay at Elon Musk's house!

---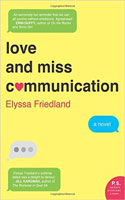 Love and Miss Communication (2015)
Evie Rosen lives for her Blackberry - she is on it more often than not and her friends always make fun of her for having the phone superglued to her hand. Case in point she shows up for a wedding and because her Blackberry doesn't fit in her clutch, she stashes it in her underwear. As she is called up to make a toast, of course the phone comes tumbling out for everyone to see.
Evie, an attorney for a prominent law firm, is hoping to make partner in the next month and has been working so hard to prove herself to her colleagues. But at a meeting with the partners, they tell her an investigation into why their internet was so slow found that the server had crashed multiple times due to employees' personal use. As their highest offender, she will be let go.
Evie is stunned, she cannot believe she used the internet that much! After handing back her beloved Blackberry, she decides to turn off the information highway. Can she make it the whole year without using any type of social media or Google? And how will she be able to find dates to go on with out her ok cupid app? It's going to be a long year ...
This book had a great premise but fell short for me. It had its good parts but otherwise dragged, with not a lot happening with the characters. (CG)