ELLA GRIFFIN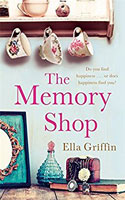 The Memory Shop (2017)
Nora is about to head to Dublin to deal with her grandparents' deceased estate when she walks in on her boyfriend cheating on her. She decides to stay longer in Dublin, living in her grandparents' home and decking out an attached shop with their treasured belongings. Will has moved to Dublin to be closer to his sister's family and hopes the new location will settle his stroppy teenager, Alice.
This heartwarming story is similar to Griffin's previous novel, The Flower Arrangement, in that it has a number of characters who appear for a chapter or two as their story unfolds. Their paths often cross, with the shop as the common link. It's a format that Griffin has definitely nailed. A lovely book full of emotion.

---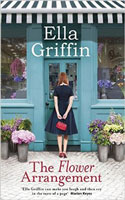 The Flower Arrangement (2015)
Lara runs a flower shop called Bloom & Grow which exposes her to people at all sorts of occasions in their lives - from the tragic to the celebratory. Lara is no stranger to heartbreak herself, losing her mother at a young age and then her own baby during pregnancy. And there are more hard times ahead for this compassionate and caring florist.
The story interweaves a multitude of other characters who are all connected somehow through the shop. Their inclusion into the story is seamless and it is a testament to Griffin's storytelling skills that you grow attached to even the most fleeting of characters. This is a wonderfully genuine and emotional read that should rightly enjoy the sweet smell of success.

---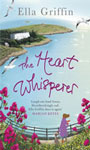 The Heart Whisperer (2013)
Claire is turning 33 - the age her mother was when she died - and realises she hasn't really achieved much. She vows to spend the next year sorting out the mess of her life, being more like her mum, who was a doctor with a husband and two children.
Claire is an actress who has been relegated to playing extra parts, she drives a clapped-out car and lives downstairs from her friend Ray, who was once in a well-known band but now writes jingles.
Claire's love life isn't faring much better and she isn't close to her brother Nick, a marriage counsellor who appears on TV and radio, or her father, who dropped out of circulation when his wife died. Claire had always blamed herself for her mother's death and as the story evolves we find out why.
This is a touching story as Claire realises her life isn't as big a mess as she thought - and her mother's wasn't so perfect.

---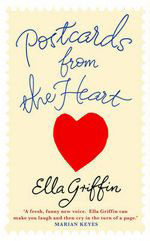 Postcards from the Heart (2011)
This follows the complicated lives of four friends. From the outside, Saffy looks like she's got things sorted - glitzy job, check, an apartment on the right side of town, check, TV star boyfriend, check. But what if she wants a TV star husband? Greg, the star in question, is about to get his big break in Hollywood. Where does that leave him and Saffy?
As for Greg's best friend Conor, he's no more sorted in the love department. His long-term girlfriend Jess, with whom he has two kids, won't marry him - something he desperately wants to change her mind about. He keeps his mind off his predicament by writing his novel and wondering if he will ever get anywhere with it.
For these four people, happy endings are starting to drift further and further away - and the fact that everyone's keeping secrets isn't helping matters either...
While I enjoyed the plot, what I really loved about the book was Ella Griffin's writing - it is sophisticated, accomplished and intrinsically witty. Her words flow wonderfully, and the humour is embedded into the tale in a really subtle manner. I initially liked the characters - even Greg (his habit of mixing up his words affords great comic effect) - then grew to care about them. For me, this book was indicative of a writer with a lot to give in the future. Roll on her next book! (SBB)