ELEANOR RAY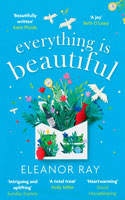 Everything is Beautiful (2021)
aka The Missing Treasures of Amy Ashton
Most people would call Amy a hoarder but she considers herself a keeper of precious treasures. Broken pots, empty bottles, colourful mugs, dainty porcelain birds, yellowing newspapers – her collections have taken over her house and garden. When new neighbours move in with two young boys, she finds she can't keep herself closed off to others forever.
The story details why Amy started collecting things, taking us back to her days of being an aspiring artist and her relationship with musician Tim.
With a quirky lead, a sad love story and a mystery to unravel, it's a remarkably beautiful story. Loved it!

---