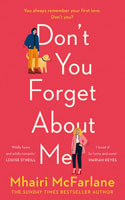 Don't You Forget About Me – Mhairi McFarlane (2019)
Georgina hasn't had much luck in love or in her job - and on the same night she is fired as a waitress from the worst restaurant in Sheffield, she also finds her boyfriend in bed with another woman. Luckily, she quickly finds another job working at a new pub in town, only to be shocked to discover that one of her bosses is none other than her first love, the boy who broke her heart when she was 18. And if things weren't difficult enough, he doesn't even remember her at all.
This book is such a captivating, fun, but also emotional read. I really liked the character of Georgina, she feels realistic, down-to-earth, with a sarcastic wit. Her life is far from easy: her crazy ex-boyfriend is stalking her, her family always try to fix her life, and now she has to deal with her feelings for her boss, leading to a series of awkward situations, hilarious scenes, and moving moments that kept me completely engrossed.
This is my first novel by this author and I have to say I really enjoyed it and I am now looking forward to reading all her other books. (NP)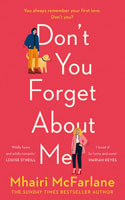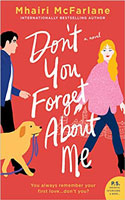 Don't You Forget About Me, by Mhairi McFarlane, is reunited with her school crush at her new job. The summary says: "You always remember your first love. Don't you...?
It began with four words. 'I love your laugh. x'
But that was twelve years ago. It really began the day Georgina was fired from The Worst Restaurant in Sheffield and found The Worst Boyfriend in the World in bed with someone else.
So when her new boss, Lucas McCarthy, turns out to be the boy who wrote those words to her all that time ago, it feels like the start of something. The only problem? He doesn't seem to remember Georgina - at all..." Don't You Forget About Me is out in January 2019.