DEVON DANIELS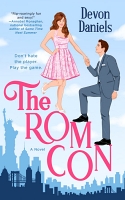 The Rom Con (2023)
Cassidy works for online women's publication Siren. Her date decides to bail on her grandmother's birthday party, because it's "Sacred Saturdays" – a time to hang out with the bros, as advocated by their rival website, Brawler.
Her grandmother gives her a dating guide from the 1950s, so Cassidy decides to pitch a story about following the etiquette rules to see how it goes in the modern world of online dating.
But when she meets Brawler co-founder Jack at an event, she ups the ante by proposing an article where she dates him as an obedient 1950s woman, and records his expected chauvinistic response.
But Jack, despite not knowing he's being played, doesn't respond how she expects, and is far sweeter and loveable than first thought.
This is a witty battle of the sexes story that brings to mind the movie, How to Lose a Guy in 10 Days. There's plenty of pop culture references, banter and one-upmanship.