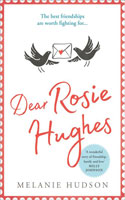 Dear Rosie Hughes, by Melanie Hudson, sees long-lost friends reconnect.
The summary says: "The best friendships are worth fighting for...
It's been fifteen years since Aggie's friendship with Rosie Hughes ended abruptly. But now she's heard from the village rumour mill that Rosie is off to war, she knows her best friend needs her more than ever - despite what's happened between them in the past.
As Rosie faces a desert full of danger and Aggie falls further from the path to love she so wants, the two friends write each other letters.
The comfort in their shared words is an anchor to the life they knew before ... and the only constant in a world as increasingly unpredictable as the wind." Dear Rosie Hughes is out in February 2019.
TEXT