DANIELLE OWEN-JONES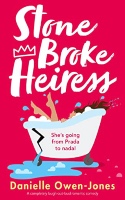 Stone Broke Heiress (2022)
Arabella is heiress to a soup empire and is engaged to Francis, the son of her father's business partner. But within days, her wedding is off, her family has been ousted from the business, and she's had to move into a tiny studio flat near a soup kitchen in Liverpool.
With her pampered life snatched away from her, Bella takes a job in the kitchen but doesn't revealed to its owner, Dan, her real identity.
This 'riches to rags' rom-com is a promising debut, with Bella making a delightful bumbling character who refuses to give up when the chips are down.

---