CRESSIDA MCLAUGHLIN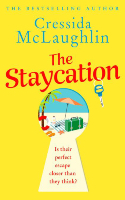 The Staycation (2022)
Hester is a London travel agent who hasn't been able to get on a plane since she was a child. She has kept her fear of flying to herself, always making excuses why she can't travel.
When Hester is asked to arrange a series of virtual holidays for a guy who is stuck in a hotel room after injuring himself saving an old lady, it seems like the perfect assignment for her. And Jake seems like the perfect guy too.
This was a clever premise – a travel agent with a fear of flying – and the idea of staycations was fitting for a book written during lockdown. And I really loved the chemistry between Hester and Jake.
However, what niggled me throughout is the fact that someone with aviophobia who lives in the UK is not exactly trapped from visiting other countries. Hello, Eurotunnel, Dover ferries and cruise ships. But that nitpicking aside, this was a delightful escapist read.

---
The House of Birds and Butterflies (2018)
Abby Fields loves her job at Meadowsweet Nature Reserve in Suffolk, she loves her colleagues, and she loves interacting with the people who come to explore the reserve. Her life revolves around the reserve and she works hard to attract more visitors but she gets distracted when Jack Westcoat arrives on the scene.
He is a famous author who left London looking for the peace and quiet of the countryside to write his new book. Even though they don't hit it off right away, Abby and Jack start exchanging notes and what starts as a friendship soon turns into something more. But they both have to deal with a past that holds them back.
I hate to admit that this is my first Cressida McLaughlin novel. I really enjoyed her writing and her attention to detail. In this novel, she creates a cast of engaging and likable characters and a captivating and entertaining story that kept me glued to the pages. It's a heartwarming, refreshing and immersive story and I'm definitely going to read more from this author. (NP)