CLODAGH MURPHY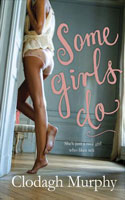 Some Girls Do (2014)
Shy and inexperienced Claire writes an erotic blog, Scenes of a Sexual Nature, under the pseudonym NiceGirl. When she is offered a book deal by publisher Mark, it becomes clear that the pair have feelings for each other, but Claire is worried because her erotica is mainly fictional and fears that Mark may be expecting someone a lot more experienced in the bedroom.
She enlists the help of struggling artist Luca, to teach her a thing or two about sex. But will she succeed in fooling Mark into believing she is like her alter ego, and find her Mr Right?
Having recently read the prequel ebook Scenes of a Sexual Nature, I was very excited to get stuck into this novel, and I wasn't disappointed. Claire was so likeable, and so at odds with her alter ego, that I couldn't help but hope she would find her happy ending.
I was worried that the frequent sex scenes would give a feel of reading erotica rather than chick lit, but they were well written and not too smutty! There were some unexpected twists and some poignant moments, and I very much enjoyed it all. (LO)

---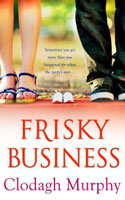 Frisky Business (2012)
Frisky Business is about a girl, a mystery man, a baby, old flames, kinky sex and secrets.
Romy Fitzgerald always planned to go the conventional route: boyfriend, marriage, children. Motherhood via cupboard sex at a costume party with a stranger dressed as Darth Vader didn't feature on her to-do list. But when she gives birth to her son Luke nine months later, he turns out to be the best thing that ever happened to her.
As Luke gets older, however, Romy knows that at some point she's going to have to tell him about his father. Trouble is, she never found out 'Darth's' real name. But when an old flame arrives back in her life, the plot thickens.
Kit Masterson was always 'the one who got away' and now he's back from New York and seems intent on playing happy families with Romy and Luke. But Kit has his own secrets to hide ...
As Romy begins to wonder if she'll ever find her mystery man from the party, she learns that in real life secrets rarely stay hidden, especially when it comes to love. But will Romy find her dark knight or will she be left to raise Luke (Han) solo?
The first chapter describes the moment of Luke's conception and sets the tone for the recurring theme of intimacy in the book. The story explores such topics as penchants for BDSM and elderly people's sexuality, and is somewhat of a departure from the author's previous work in that sense (notwithstanding the fact that there are plenty of intimate scenes in her other books).
However, all of the core elements that made her previous books so enjoyable are also evident in Frisky Business - likeable characters, palpable affection between family and friends, hilarious dialogue and plenty of warm fuzzy feeling scenes. (SBB)

---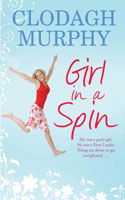 Girl in a Spin (2010)
Jenny Hannigan is a super-sexy party girl who has men falling at her feet but all she really wants is a life of domestic bliss - the kind of life she never experienced as a child.
When she meets Richard Allam, she thinks she's met the one she wants to spend her life with. Trouble is, Richard is a politician who's hotly tipped to lead the Moderate Party to victory in an upcoming election, and Jenny isn't exactly politician's wife material - unlike Richard's ex, the perfect Julia.
In a bid to endear Jenny to the public and his party colleagues, Richard recruits publicist Dev Tennant to spin Jenny as the type of partner a political leader should have. But Dev has his work cut out for him with Jenny, and as more and more secrets from her past emerge, Dev finds himself working overtime to keep the truth hidden. Can Dev possibly turn a party girl like Jenny into a political party woman?
As the election looms and Richard becomes increasingly caught up in his workload, Jenny is forced to ask herself if a future with Richard is what she really wants after all.
Clodagh Murphy has a gift for creating leading characters that you can't help but love, and I was rooting for Jenny all the way through the book as she navigated her strange new world of politics. The supporting characters provide many humorous moments and will have you chuckling your way through the book. (SBB)

---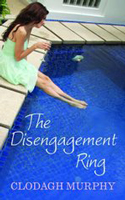 The Disengagement Ring (2009)
Kate O'Neill has just got engaged to workshop facilitator Brian but her close-knit family are less than impressed that she's settling down with an unsociable, skinflint "tree-hugger".
So led by her actress mother Grace, the O'Neills plot to send Kate to Tuscany for the summer, convincing family friend Will to hire her as his rock band's chef. And since Kate has had a crush on Will for years, they are hoping he can lure her away from Brian.
From a stag party that lasts for three days and sees the groom lose his hair, to a publicity-mad girlfriend being locked up with a lesbian for a reality TV show, this has many laugh-out-loud moments. If you enjoyed reading about Marian Keyes' Walsh family, then here's another madcap but endearing Irish family for you to fall in love with.