CLARE FLETCHER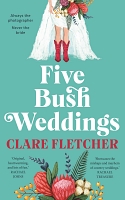 Five Bush Weddings (2022)
Stevie is a photographer, with bush weddings her specialty. Lately, she keeps bumping into her old uni mate, Johnno, because he's returned from London to take over the running of his family farm in rural Queensland – even though the task is better suited to his sister Kate and her husband.
With an ex's wedding on the cards, a flirty guest, a TV crew flying in, and a girl-next-door looking for romance, it is going to be one eventful wedding season.
This quintessentially Australian story is told from the alternating viewpoints of Stevie and Johnno, with some extra gossipy updates from the region's Bush Telegraph, the spritely Mabel. An engaging debut.

---