CLAIRE FROST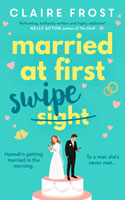 Married at First Swipe (2021)
Jess has created an app called Save the Date for people looking to find a partner to settle down with but the business is in trouble. Her best friend, Hannah, has always had wanderlust but having travelled far and wide, she is now back in Manchester and ready for a serious commitment.
So in a bid to drum up publicity and more customers for the app, the women hatch a plan to have Jess find Hannah a match who she will marry without ever meeting him. Meanwhile, Jess' own marriage to her childhood sweetheart is going through a rocky patch.
For a story about marriage and finding a life partner, it somehow lacked emotional connection. It also rushed over scenes that could have added to the drama and it was missing the juicy conflict that you'd expect from a Married at First Sight-inspired tale. A bit too bland so it's a swipe left from me.

---