CLAIRE ALEXANDER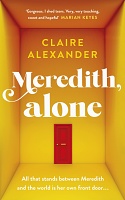 Meredith, Alone (2022)
Meredith hasn't left her Glasgow home in 1214 days. The writer lives with her cat Fred and enjoys jigsaws and baking. Estranged from her mum and sister, Meredith's only visitors are her friend Sadie with her two kids and a delivery guy.
That is until Tom, from a befriending charity, starts spending time with her and she meets hairdresser Celeste online. With the help of her therapist, can Meredith step outside and what made her retreat into her shell in the first place?
You really feel for Meredith as the story delves into her routine days as a recluse, her anxiety and panic attacks, and the past that lead her to this point. It is a beautiful tale of hope and healing, with a memorable main character.

---