CHRISSIE MANBY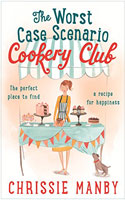 The Worst Case Scenario Cookery Club (2017)
With her husband now living with a clean food blogger and her teenage daughter increasingly turning her nose up at her inadequate meals, dental hygienist Liz decides to enrol in a cooking class. Alex's class only attracts two other participants - widower John who needs to learn to fend for himself, and busy public defence lawyer Bella who wants to reconnect with her Italian culinary heritage.
Returning to the town of Newbay, the location of A Fairy Tale for Christmas, this is a funny and engaging book, complete with new friendships and romance, culinary challenges, and doggy weight-loss lessons. The interesting character backstories made it easy to get caught up in their lives and you would hope to hear from them again.

---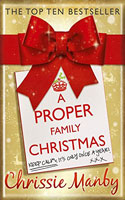 A Proper Family Christmas (2014)
The Buchanan family have it all - a beautiful house, designer clothes and cars and a wealthy lifestyle. On the other hand, the Bensons are a typical, working family. Two families couldn't be further removed from one another but they're just about to find out that actually they're a lot closer than they think. Annabel Buchanan discovers that her real mother and father are Jacqui and Dave Benson, and she has two sisters, Ronnie and Chelsea. But if Annabel is horrified at being related to these people, she can't show it because, with daughter Izzy needing an urgent kidney transplant, she needs the Bensons more than she could ever admit. Whilst Jacqui is delighted to finally meet her long-lost daughter, Ronnie is less than pleased with this new Lady Muck.
First things first, I'd expected a much more Christmas-orientated novel than you actually get with this book, with only really the last few chapters touching on the festive season, and then albeit briefly, but that's merely an observation in case you were expecting a yuletide yarn. This book is much more about family, relationships and what matters in life. The dual storylines of the search for a kidney donor and the family reunion were really strong and made this book a much more impactful and substantial novel.
I enjoyed the dynamics of the families and the mixture of outlooks, which shows up the difficulty of the choices facing the various characters. However, I would have liked to have seen more of the developing relationship between Ronnie and Annabel and the transition from animosity to affection. The epilogue though was wonderful and the novel - the sequel to A Proper Family Holiday - hammers home the importance of good health and family. (JC)

---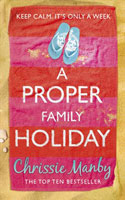 A Proper Family Holiday (2014)
Magazine staffer Chelsea has slept through her alarm so misses her plane to Lanzarote, in Spain, where she is joining her family to celebrate mother Jacqui's 60th birthday. Her sister Ronnie - a mother of two - is not impressed and thinks this is typical behaviour of her spoilt sister. When the family is plagued by illness, it's up to Chelsea to look after her young nephew Jack. This means she's unable to escape single dad Adam and his tyrant of a daughter, Lily. Meanwhile teenager Sophie is bored, Jacqui is nervous about breaking some news and granddad Bill is getting chatted up at the bar.
In this very amusing story, Manby has created some delightful characters that you can't wait to revisit again. This is the first book in a series about the Benson clan, and finishes on a cliffhanger that will lead into the next book, A Proper Family Christmas. It's definitely a proper sunny holiday read.

---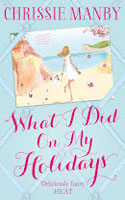 What I Did on My Holidays (2012)
Sophie Sturgeon cannot wait for her summer holiday - a trip to Majorca with boyfriend Callum. But on the eve of their flight, Sophie doesn't hear from Callum until 8 o'clock at night - ruining a romantic dinner she had planned to kick-start their vacation. Instead Callum sends her a text message advising that he is dumping her. Unable to understand what has just happened, Sophie doesn't get on their flight the next morning. And when her sister Clare comes in to water her plants, she hides behind a door frame rather than admit what has happened. But eventually she is forced to come clean - even if it's just to stop her sister trying on her Jimmy Choos. Clare comes up with a plan to pretend that Sophie had gone on that trip to Majorca and that Clare has flown out to her rescue. She desperately needs a break from her fiance Evan. Once Sophie decides to go along with her sister's plan she has no idea what is in store for her. Will she get Callum back or will they get caught out?
This is a great book about sisters coming together in their time of need. It's a hilarious tale on how far you are willing to go to get your boyfriend back. (CG)

---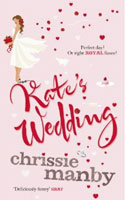 Kate's Wedding (2011)
Kate, 39, has just been proposed to by Ian. The couple want a very simple affair and plan to just tie the knot at the local registar's office. But as Kate announces her engagement, her mother Elaine informs the family that she has breast cancer. Kate's sister, Tess, decides Kate's wedding couldn't come at a better time to cheer up their mother who thought Kate would never get married. So Kate and Ian's simple wedding turns into a more lavish wedding - the sort of affair Kate never wanted.
Diana is engaged to Ben and is the total bridezilla - she knows what she wants and she is going to get it! Diana was born on the historic day of Prince Charles and Diana's wedding in 1981 and was even named after the princess. Once she hears that their son, Prince William, and Kate are getting married in the same month as herself she feels that it is fate and that she needs to have the best wedding ever. Armed with her father's credit cards and her mother who is trying to give her the wedding she never had, it seems Diana's wedding may turn into an over-the-top affair that Ben never wanted. Which bride gets the man and the wedding of their dreams?
Released to coincide with the royal nuptials, this hilarious story puts the spotlight on two totally different brides. At first it was hard to get into but it turned out great in the end. (CG)

---
---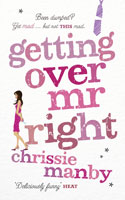 Getting Over Mr Right (2010)
Ashleigh finds out via Facebook that she's been dumped by the guy she thought was Mr Right. But unable to just walk away, she embarks on an obsessive campaign to win Michael back and is more than willing to stalk her prey - both in real life and cyberspace. As she works through all the stages of a break-up - from denial when she turns up at his office to propose, through to anger when she constructs a voodoo doll - much more than her love life starts to suffer.
This is the perfect book for those wanting to move on to the laughter stage. It's a light-hearted read that provides a very funny take on being dumped.

---
Crazy in Love (2009)
Golf resort heiress Birdie Sederburg is used to getting whatever she wants. So when the man on her radar, soapie star Dean, doesn't reciprocate an interest in her, she rear-ends his car so she can take him out to dinner in apology. Dean's agent, Justin, convinces him to date the socialite - for publicity sakes. But when he starts romancing his co-star instead, Birdie decides to go to even more drastic lengths to gain his attention - she arranges her own kidnapping. Meanwhile, former law student Nate, now an eco-warrior, is campaigning against her grandfather's environmentally destructive developments - and takes a job as Birdie's gardener to get close to her.
For those looking for an outrageous read about an infatuated socialite whose entourage includes a sex-change personal assistant, a ditzy fellow heiress as a loyal best friend, and a stylist whose fashion-forwardness places Birdie at the top of the worst dressed list.

---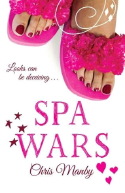 Spa Wars (2008)
All Emily's dreams come true when she opens her own beauty salon, The Beauty Spot. And clients come flocking after she helps reality TV star Carina Lees survive a nail emergency on the way to an awards ceremony. Expanding her Essex business on the advice of the well-groomed financial adviser Matt, Emily takes on Natalie, a talented but badly groomed beautician. But then things start to go wrong. Who has got their sharpened talons out for Emily and her salon?
The perfect book to while away your time at the hairdresser's, read it for its very funny take on 15-minute fame.

---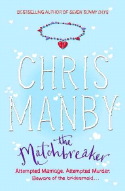 The Matchbreaker (2006)
Spoilt only child Lindsey Parker is well used to getting rid of her widowed father's fiancées. Potential stepmum No. 4, Karen, a personal trainer, is all set to put Lindsey into a tacky gold bridesmaid dress until Lindsey pushes her overboard a yacht during a hen's weekend in Ibiza. In the aftermath Lindsey's father basically disowns her. Having to stand on her own two feet for the first time, Lindsey tries to make things right again, including working as a honeytrapper to reunite her dad with his love.

---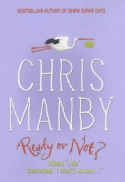 Ready or Not (2005)
Heidi is already having doubts about her upcoming nuptials even before her fiance Ed gets his eyebrows shaved off by his rugby mates. And her pre-wedding jitters are certainly not helped by the return of her significant ex, Steven - more gorgeous and grown-up than ever. Meanwhile her best friend, Kara, has found a new man via internet dating and is increasingly leaving Heidi and Ed to hold the baby. This is a fun read about a bride who is not sure if she's ready for marriage and family - or is simply with the wrong man.

---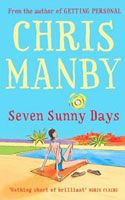 Seven Sunny Days (2003)
Three friends head off to a Turkish resort for a hen's weekend – Rachel is getting married, Carrie Ann has just got divorced and Yaslyn seems happy to be away from boyfriend Euan. Over the next week, the women fight for sun loungers around the pool, fight off the unwanted attentions of male guests, fight back their attraction to the smooth hotel reps and even fight one another. This is a fun and entertaining story, perfect for taking along on your own holiday for some light poolside reading.

---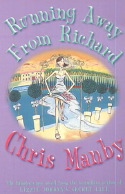 Running Away From Richard (2001)
In this sequel to Lizzie Jordan's Secret Life, the wannabe actress is dumped by her boyfriend of four years, Richard, a week before her best friend Mary's wedding. Fat Joe, her former flatmate and now a transvestite living in Los Angeles, lets Lizzie move into his Venice Beach home. Soon Lizzie is working as a waitress and pretending to be the fiancee of a hot movie director, who just happens to be gay.