CHARLOTTE RIXON
aka Charlotte Duckworth
---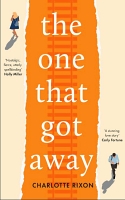 The One That Got Away (2023)
A bomb goes off at the stadium hosting a Newcastle City soccer match. Clara, who works on the news desk, immediately thinks of her former university boyfriend, Benjamin, who never misses a match. So she catches a train up to Newcastle to look for him.
The story then backtracks to 2000 when Clara and Benjamin first met, and takes us through the journey of their intense relationship, dropping hints as to why they are no longer in touch.
With short chapters, dual narration and a timeline spread over two decades, this book tackled a range of heavy topics and certainly did not serve up cookie-cutter characters. It was a well-plotted and well-executed story which completely captivated me.

---