CHARLENE ALLCOTT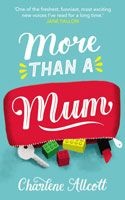 More Than a Mum (2020)
Mother of two Alison works in marketing but is much older than the rest of the staff. Her assistant is always super-keen – to usurp her. When Alison's boss sends her to a function, she meets motivational speaker/author Frank and he looks like the key to making her life more exciting.
The author has a breezy, engaging writing style and can certainly create an interesting storyline. However, the title suggests a woman finding a path outside of being an underappreciated mum. But I felt like Alison wasn't really being a mum at all. She was a selfish character who didn't really step up when her oldest daughter was in trouble and spent a lot of time working late or away on trips. Meanwhile her husband Dylan seemed like a decent guy who gave no reason for her to shaft him.
So for all the book's strengths, it was hard to like it because of the main character. I would have also liked to have seen more made of Frank's motivational mission. Despite my disconnect with this particular character, I would definitely read more of this author's work.

---