CESCA MAJOR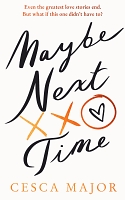 Maybe Next Time (2023)
Literary agent Emma lives a hectic, rushed life with too many commitments. Today, for example, her two kids are bickering, and she has a work meeting with her boss Linda and their best-selling but misogynist author Arthur. The dog is sick, she has a committee meeting for playgroup tonight, even though her children no longer go, and her sister-in-law Hattie as well as an overly anxious author are trying to reach her.
Emma has also completely forgotten that it's the anniversary of when she met husband Dan, and they always write each other a letter.
That night, a tragedy occurs and she loses Dan. But then she wakes up, and he is back by her side in bed. And time and again, Emma has to relive the same day, trying to put things right.
This was a fantastic story, and although the Groundhog Day theme has been done time and time again, this had all the emotions to make it stand out as a top-notch example of the time-loop trope. So it came as no surprise to hear the book has been picked up for a screen adaptation.
The author really nailed the over-pressured demands on a working mother and it was quite a relief when Emma learnt to slow down and spend more time with the people she loves. It's the sort of story that makes you reflect on your own life, plus extra points for the great ending.

---