CAROLYN MACKLER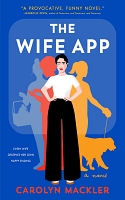 The Wife App (2023)
Lauren, an app developer and mother of twin girls, has her cheating suspicions about husband Eric confirmed after a snoop on his phone.
Madeline is independently wealthy and lives for her teen daughter, Arabella. So she freaks out when she finds that her ex-husband is planning for their daughter to live with him in London for a year.
Sophie has trouble making ends meet and now her ex - who has had a baby with his new partner - is refusing to pay his share of therapy for their anxious son.
The women come up with an idea for an app that pays people to take on the mental load that usually falls to a wife, such as filling in paperwork, scheduling social events and medical appointments, running errands etc.
This story delivers a firm message about the need to monetise the free labour provided to raise a family and run a household, with the women becoming like a First Wives Club for the tech generation.