CAROLINE GRACE-CASSIDY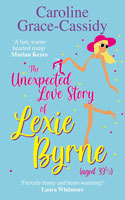 The Unexpected Love Story of Lexie Byrne (2021)
About to turn 40, Lexie is a Dirty Dancing fan who is wanting to be swept off her feet by her own Johnny Castle. She bumps into nurse Adam in a Dublin pub on St Patrick's Day and finally feels sparks. But alas he lives in England.
Scared of walking out of the room and never feeling her whole life the way she feels when she's with him, Lexie decides to head over to visit Adam. But their reunion weekend doesn't exactly go to plan.
Lexie was a fun character to follow as she took a chance on love. Like her, I have watched Dirty Dancing over and over again, so this book felt made for me. But for those who aren't so enamoured with Baby and co., the movie references are certainly not overdone so anyone can sit back and enjoy this amusing and engaging rom-com. You may just have the time of your life!

---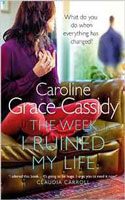 The Week I Ruined My Life (2016)
Ali Devlin adores her children, loves her job, but she is in an unhappy marriage. While juggling busy schedules and trying not to have sexy fantasies about her colleague, she tries to save her marriage for the sake of her children, even if this means sacrificing her own happiness.
The story is told from Ali's point of view and I found myself siding with her, cheering her on as she endures and fights her husband's insults and ridiculous demands. He doesn't want her to pick up their five-year-old son in her arms, he's telling her how to close the lid of the bin and how to wash the dishes, and that she is a bad mother because she doesn't want to quit her job and just take care of him and the children.
I was engrossed in this book and really wanted Ali to have her happy ending. Overall, this is a very engaging and relatable novel. (NP)

---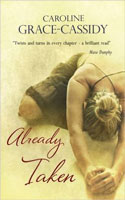 Already Taken (2015)
Kate Walsh has the unusual job of 'event companion'. She is an independent woman who revels in the fact that she lives alone and has a career that she enjoys. Her younger sister, Ciara, has a long-term illness, and Kate has spent her life caring for Ciara after their mother left them in the care of their alcoholic father when they were just young teens.
Now they must find their estranged mother, in the hope that her bone marrow could save Ciara's life. A chance encounter in the butchers with the charismatic Hugh Clover ignites a longing in Kate, a need that she had long forgotten. But is she ready to allow a love interest into her already complicated life?
This was a slow burner for me, it took me quite a few chapters to become invested in Kate's life. I did like Kate, her tough exterior hid a hurt and damaged girl and as her vulnerability emerged I began to like her more and more. She is a brilliant sister to Ciara, their relationship was lovely to read about. I wasn't sure what to make of Hugh at first, but I soon began to see how caring he was beneath his similarly damaged exterior and that he was a perfect match to balance Kate's personality.
There were some serious issues dealt with in the story, such as mental health and alcoholism, and they were dealt with sensitively yet directly. Kate's memories of her childhood really gave a poignant insight into a child's life growing up with an alcoholic parent. By far the star character of this novel for me was Kate's flamboyant best friend and dance teacher Phillip, I'd loved to have seen more of him. There were parts of the plot where I felt the pace was too slow but overall an enjoyable read. (LO)