CAROLINE CORCORAN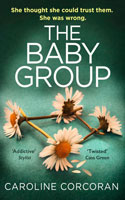 The Baby Group (2020)
Scarlett showcases her enviable life with her young family on her increasingly popular Instagram page. New to the Cheshire neighbourhood, she has also been fortunate enough to have found friends in three women from her prenatal classes.
But then, on the day Scarlett heads back to work from maternity leave, someone sends a link of a sex tape from years earlier to her family, friends and colleagues. In fact pretty much everyone she knows apart from the baby group.
She needs to figure out who hates her enough to do that, whether it's someone from her past or perhaps her present.
This was an intriguing story about the past coming back to haunt you. It not only delved into who the culprit was and why, but also illustrated the unravelling of Scarlett's life because of her shame.

---