CAROLINE BOND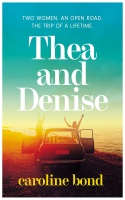 Thea and Denise (2022)
Inspired by Thelma and Louise, this story opens with a prologue where our two heroines are in a car facing a cliff, and have to decide what to do next.
Thea is divorced and her teen daughter no longer wants to live with her. Mother-of-three Denise, who works in her husband's business, visits her cantankerous father-in-law every week, and desperately needs a break.
So she uncharacteristically takes off for a night away with her new friend Thea. But then one day becomes two, then three ... and Denise doesn't want to go home just yet.
This road trip story portrays two women who find a lifeline in an unlikely friendship. It's a wonderfully life-affirming read about mid-life disillusionment, escape and self-discovery.

---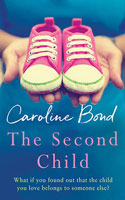 The Second Child (2018)
Sarah and Phil are wonderful parents to their two children, James and Lauren. However, Lauren needs regular medical care due to a severe disability. One day a blood test reveals that Lauren is not their child, that she was switched with another baby at the hospital. The story then turns to the other family involved.
Told from different viewpoints, readers are taken on a thought-provoking journey as the families come to terms with what has happened, and decide what to do next. Sensitively written with the meaning of family at its heart, this makes for a great book club choice.