CARLEY FORTUNE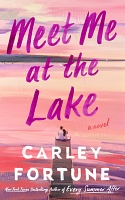 Meet Me at the Lake (2023)
After her mother died in a car accident, Fern returns home to work out what to do with her mum's pride and joy, the family's lakeside resort in Muskoka. As she is figuring out whether she should stay, she is shocked to run into Will, hired by her mother as a business consultant just prior to her death.
Fern first met Will in Toronto 10 years earlier, when he was an artist doing murals. He is well aware that Fern never wanted to end up back at the resort; her dream is to run a coffeeshop in Toronto.
He is also aware that after spending that wonderful day together a decade ago, they had agreed to meet a year later at the resort lake but he stood her up.
This was a highly anticipated read because I adored Every Summer After and also what a gorgeous cover. The reconnection of an old crush was a similar storyline but the chemistry and reason that kept them apart wasn't as believable or worth however many pages to reveal. Will was sadly a bit wet, like the lake.

---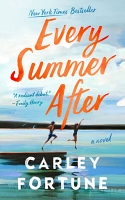 Every Summer After (2022)
Percy's summers as a teen were spent at a cottage on the lake, hanging out with the boy from next door, Sam. She loved writing and horror movies, and trained to swim across the lake. Sam was a runner, who read medical textbooks, and helped out at his mother Sue's tavern.
It's been 12 years since Percy has seen Sam when she gets a phone call from his older brother Charlie, telling her that Sue has died. So she heads back to Barry's Bay to pay her respects and face the decisions she made all those years ago.
This book offers a luscious recap of their youthful summer days at the lake, the longing that builds between them, and then explains what the heck went wrong. A tender debut which puts the author straight on my must-read list.